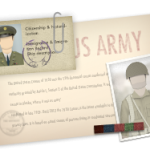 Military personnel records, separation documents and medical records are all available online.
The Servicemembers Civil Relief Act Centralized Verification Service (SCRACVS) verifies if a person is, or is not, on active military duty as of a specific date. Although we do not provide historical record, many are available from the United States National Archives.
Detailed Military Personnel Records are Available To:
This information can be obtained at the EVetsRecs system. However, you can also mail in a request, using form 180.
Access to Military Personnel Files for the General Public
If you are not the veteran or a family member, some information is still available to you at the National Archives of St. Louis.
But there is a big difference between the archived records and nonarchival federal military records. Forces war records are transferred to the Archives 62 years after the termination of military duty. For example, on Dec. 8, 2016, you could find archived records if the person left active service on or before Dec. 8, 1954. However, more recent records are in the Federal Records Center, subject to access restrictions. A good article on this difference between archived records and regular personnel records is found on the archives website.
Are you looking to find where a servicemember is stationed? If so, you can start by referring to this article.
There is also an excellent guide to geneological research which includes military records search on the archives site.
The National Archives also maintains a treasure trove of specialized databases that list war records for:
World War II:

Army Enlistment
Prisoners of War

Korean War:

Personnel who died as a result of hostilities
War dead and wounded (Army)
Repatriated Korean War prisoners of war
American prisoners of war during the Korean War

Vietnam War:

Military personnel who died, were MIA or POW
Awards and decorations of honor
Ground combat operations (Army)
Air sorties flown
Hostile fire against U.S. and Australian warships