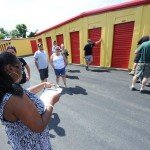 Self storage operators face issues similar to other landlords when confronted with defaulting renters.   Costs remain constant (or increase), but the income the operators rely upon sometimes does not materialize.   Most states have laws that permit lien sales (states may have their own names for the sales, like "storage lien sale", "replevin sale", "storage unit sale", "storage auction") which require that specific steps be followed to sell the articles left in a storage unit, usually by auction.  Those procedures usually require notification to the unit renter as well as publication. A good compilation of those laws is available at www.InsideSelfStorage.com.
These requirements must be followed carefully.  All too often, an upset unit owner will seek to challenge a sale.  The unit owner may complain that the notice was not sent to the most recent address supplied to the self storage operator, or that the operator knew how to reach the unit renter, but failed to take any action reasonably calculated to alert the unit owner.   Other complaints may be that the newspaper advertisement was faulty, resulting in fewer bidders, resulting in less money from the sale.  Finally, the tenant often complains that he has made payments, but that he was not given credit for them.  In some states, a renter can go to small claims court to complain about a sale.  
If there is even a remote doubt that the requirements were followed, it is best to cancel the sale and restart the process.  The goal is to eliminate grounds for complaint.  The last thing anyone wants is to ignore the rights of our servicemembers and become the subject of a U.S. Department of Justice enforcement action
or be the topic of negative news articles.
An operator should also review its insurance policy to make sure that there is some coverage against claims of disgruntled, defaulting unit owners.
It is extremely important to comply with the federal Servicemembers Civil Relief Act.  Besides the federal law, some states have their own, additional laws  that storage operators need to observe.
The operator should use the Servicemembers Civil Relief Act Centralized Verification Service (SCRACVS) at www.ServicemembersCivilReliefAct.com which is particularly convenient with the renter's social security number is not known.  The SCRACVS accesses the data base maintained by the Department of Defense Manpower Data Center (DMDC) and has many articles relating to the SCRA.