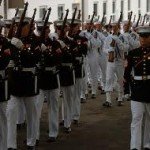 The Department of Defense Manpower Data Center ("DMDC"), the source of information reported by the Servicemembers Civil Relief Act Centralized Verification Service ("SCRACVS")  reports the following on in its user manual as the definition of active duty as interpreted under the Servicemembers Civil Relief Act ("SCRA"):
"Active Duty status, as reported in this file, is defined in accordance with 10 USC §101(d) (1). Prior to 2007, DMDC only received information on active duty periods of more than 30 consecutive days. In the case of a member of the National Guard, Active
Duty includes service under a call to active service authorized by the President or the Secretary of Defense under 32 USC § 502(f) for purposes of responding to a national emergency declared by the President and supported by Federal funds.
All Active Guard Reserve (AGR) members must be assigned against an authorized mobilization position in the unit they support. This includes Navy Training and Administration of the Reserves (TARs), Marine Corps Active Reserve (ARs), and Coast Guard Reserve Program Administrator (RPAs). Active Duty status also applies to a Uniformed Service member who is an active duty commissioned officer of the U.S. Public Health Service or the National Oceanic and Atmospheric Administration (NOAA Commissioned Corps).
Coverage under the SCRA is broader in some cases and includes some categories of persons on active duty for purposes of the SCRA who would not be reported as on Active Duty in this file. Many times orders are amended to extend the period of active duty, which would extend SCRA protections. Persons seeking to rely on the data in this file should check to make sure the orders on which SCRA protections are based have not been amended to extend the inclusive dates of service. Furthermore, some protections of the SCRA may extend to persons who have received orders to report for active duty or to be inducted, but who have not actually begun active duty or actually reported for induction. The Last Date on Active Duty entry is important because a number of protections of the SCRA extend beyond the last dates of active duty."