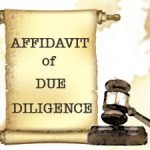 Banks, landlords, storage operators, repossessors, and plaintiffs in lawsuits who want to take some action against a person all have something in common.  They need to verify if the person is on active military duty.  Usually, they need to present a military affidavit to the court that shows the results of the verification.  Occasionally, despite many efforts, it is simply impossible to verify.  That is when the "Affidavit of Due Diligence" comes into play.
First let's understand what the process looks like.  The Servicemembers Civil Relief Act Centralized Verification Service ("SCRAcvs" or the "Verification Service") receives the request for verification.   The Verification Service looks to see if the social security number has been provided.  The U.S. Department of Defense ("DoD") will only verify for sure if the social security number is submitted.
If the social security number is not provided, the Verification Service will research secure data bases throughout the country to find the social security number. These data bases usually contain information gathered from financial records (like bank statements, bills, orders from vendors, magazine subscriptions, etc.) as well as some court, DMV, and voting information, depending upon the State of residence (some states do not report this kind of information to the data bases).  The data bases are very comprehensive and can include names, variations on the name, addresses, relatives' names, phone numbers, professional licenses, and dates of birth.
If someone cannot be found at a particular address, we can also search by relatives' names.
This is why, if you are not submitting a SSN, it is so important to supply us with other information to help us search the data bases.  Helpful information includes addresses, phone numbers, relatives' names, and driver's license numbers.  Unhelpful information would be what the person looks like, and information such as "the person works as a waitress", or "has red hair", or "has written me love letters and I want to make sure he is legitimate" (this site is probably not what you need), "has 3 puppies", or "I need this information for court",  (everyone is here for the same purpose).
If you give us that information when you place the order, you save time; because, we do not have to pause our work to come back to you to ask you for additional information.
Our goal is to find the social security number (which, by the way, we only supply to DoD during the verification process.  We never reveal it to anyone else and we purge it from our system rapidly when a verification is completed.
The DoD also allows a verification to be conducted with only the date of birth, without the social security number.  However, this is not the preferred route; because, the DoD will print a large warning, in all capital letters, that says that the certificate cannot be guaranteed because a search without a SSN is the only reliable type of search.  Courts may not be happy with this kind of warning.
There are times when the Verification Service cannot find either the SSN or a date of birth.  For example, if the person is a foreign national, he may not be receiving financial-type mail and may never have be put into the data bases.  Similarly, a very young or very old person might not be in the data bases. Or, if the name of the person is a nick name, misspelled name, or even a completely fake name, there might be the same type of problem.
A similar situation can occur when the person has a common name.  If you put in a verification request for "John Smith", and you don't supply some addresses or phone numbers, and all you say is that he lives in NYC, you can predict that the data bases will show hundreds of people with that name.  The Verification Service won't be able to narrow it down to find the person you are looking for. Again, that is why supplying as much information as you can when you do not have the SSN is so important.
But, when all else fails, and we cannot find either the SSN or the date of birth, we can issue an Affidavit of Due Diligence.  This notarized document outlines the steps we took, unsuccessfully to find the information required by the DoD and, because of that, no SCRA verification can be conducted.  If you do not have either the SSN or the date of birth, the DoD will  not reply.
The surcharge for an affidavit is $20 and overnight delivery is available (cut off is 3:00 p.m. EST – workdays only).
We have not heard of any court rejecting an Affidavit of Due Diligence, however, each judge and each Clerk of the Court have discretion to review documents and determine adequacy.   The purpose of the Servicemembers Civil Relief Act is to protect active duty servicemembers and the goal of everyone should be to make sure that a diligent effort is taken to verify if the person enjoys those protections.
When the Verification Service has decided that it simply cannot run an SCRA verification, you will receive an email.  You will be asked if you have other information about the person, whether you want to take a few days to find more information, if you want to terminate the order completely (with refund), or if you want an Affidavit of Due Diligence.  You easily select your option by clicking a button.  If you have not paid for an affidavit with your original order, you will be prompted to pay the surcharge of $20.
The Affidavit of Due Diligence is a document of last resort; but, sometimes, it is the only solution, and, at $20, is probably worth a try.