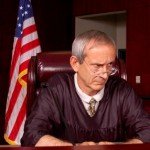 It happens every day, all over the country.  A Plaintiff files suit.  The Defendant doesn't show up and then the Clerk throws a road block at the Plaintiff.  No default judgment may be entered until the Plaintiff produces an affidavit.  The Clerk explains that a federal statute, the Servicemembers Civil Relief Act ("SCRA") is designed to protect active duty servicemembers and prohibits the Clerk from entering judgment without the affidavit.  The affidavit basically says that a diligent search has been conducted and that the Defendant is not on active military duty or otherwise protected by the Act. You need a military affidavit.
               This affidavit goes by different names, depending upon the particular court:
Military affidavit
Affidavit of Military Service
Non-military affidavit
Affidavit in compliance with the Servicemembers Civil Relief Act
 There are easy, valuable, and inexpensive resources available to the Plaintiff.   The first step is to conduct a reliable military verification.  The Servicemembers Civil Relief Act Centralized Verification Service ("SCRACVS") is a complete and secure on-line tool for compliance.   While some resources, such as the Defense Department's Department Manpower Data Center ("DMDC") will give a less-than-satisfactory response unless the Defendant's social security number is provided, this is usually not an obstacle for the SCRACVS.  A social security number is not usually required.   In lieu of a social security number, the Plaintiff can provide other information about the Defendant, such as:
 Addresses
Known relatives or associates
Telephone numbers
Business information (although residential addresses are preferable)
Military verifications are usually delivered by the following business day.  Once the military verification has been conducted, the results have to be delivered to the court.  The SCRACVS can prepare and deliver the military affidavit to you overnight for delivery to the Court.  Alternatively, if acceptable to the court, you could sign your own affidavit attesting to the search that was conducted and the results.
 After the Court receives and approves the affidavit, and the affidavit clearly states that the Defendant is not on active military duty,  and other local requirements have been complied with, a default judgment may be entered against the Defendant.
Read more