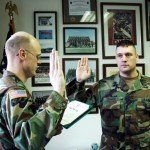 Section 527 of the Servicemembers Civil Relief Act ("SCRA") generally requires that interest rates on obligations that pre-date active duty be rolled back to 6% upon request of the servicemember and adequate demonstration that the servicemember is eligible for this and other protections.  Other protections deal with foreclosure proceedings, insurance, and default judgments in court.  The logic behind this benefit is that, after a servicemember is called to duty, his income may be reduced and the reduction in interest rate is to soften the financial impact upon the servicemember and his family.   A lender has a right to ask the court to determine that, notwithstanding the new military service, the servicemember has not been disadvantaged to the point where he merits the reduction to 6%.  Such might be the case if the servicemember is particularly wealthy, has other sources of income, or is at a particularly high grade level.
The operative point in time is either the date of the call-up orders or the Active Duty Start Date.   In effect, if military service starts, interest on pre-existing debts can be rolled back.  It stands to reason that, if the military service continues, because of re-enlistment, the operative point in time has not changed.  One cannot restart the clock by simply re-enlisting.
False rumors on the internet are lulling servicemembers (and even some lenders) into believing that a claim can be submitted based on the sole criterion that the servicemember recently re-enlisted.
Unless there is a break in service, the operative point in time does not change – it remains the first date of active duty.  Re-enlistment does not give the servicemember a "second bite at the apple" to incur a debt, only to have the interest rate forcefully reduced shortly thereafter.
If a claim by a servicemembers for benefits under the SCRA is false, and such is a knowing misrepresentation could constitute a violation of the Uniform Code of Military Justice.